Music is an expressive language that takes you beyond mere words..">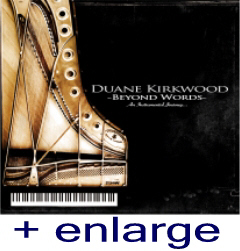 Beyond Words - an instrumental journey
Music CD by Duane Kirkwood
We all find moments in life where words are inadequate and simply get in the way of one's deep emotions and thoughts. Music can be an expressive language that takes you beyond mere words. It is my desire that the atmosphere this music creates takes you on a seamless journey; a journey not of words but of simple rest away from the hectic noise in our loud and busy lives.
May the language of this music take you "Beyond Words" - Duane Kirkwood

This instrumental CD is a great addition to your time of devotion, meditation, prayer, rest, stretching, exercising, hosting a dinner or just simply doing your daily chores.

Running time: 45:00 All compositions created, performed, and recorded by Duane Kirkwood.

List price: $15.00
Amazon price from $14.47 disc, $8.99 download


Tracks
Anticipation

Breathless

Come Away

There With You

The Dance

Hearts Awakened

Captivated

Letting Go

Protected

Breathe You In

Delight

Embrace
© 2007 Threshing Floor Music. All rights reserved.
Reviews
Excellent! I'm so happy to have purchased this CD. The first listen moved me to tears. Since then, I've played it as background music when I've had guests and it created a calm, relaxing mood. I'll be playing it both when I'm alone and with friends. I've never owned anything like it. - Martha Zimmerman
Oh, My God. This is the most beautiful, anointed music I have ever heard. - Susan Jones