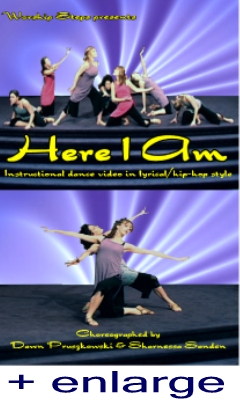 Here I Am - lyrical/hip-hop praise dance instruction video


This contemporary and passionate lyrical/hip hop praise dance turns a prayer into a cry of the entire being. Choreographed to the song Here I Am, the first part is a lyrical dance routine that can be done by two or more dancers. A short portion of this is done with ribbons. The second part of the song fuses the lyrical with hip hop dance and allows dance groups to choose whether they want to finish the dance in just the lyrical style or blend it with hip hop. This very exciting dance routine that draws people to Jesus is a wonderful chance for dance groups to incorporate the youth into the hip hop portion.
See the > dance video clips < and where to buy the CD or download the > song < used in this video.
Running time: 87:00
Choreography and instruction by Dawn Pruszkowski and Sharnessa Sanden
Produced By Wiesiek Pruszkowski


List Price: $29.99
Sold out Shipping info and payment options

DVD


Link to this video:
Embed this video:

Watch all of our videos in one place - click here



Endorsements

"Give your group a chance to explore blending current dance styles. With the lyrical hip hop fusion in the Here I Am lyrical/hip hop praise dance instruction video, once again, Worship Steps has produced a compelling contemporary piece. Beginner to Intermediate dancers will find enjoyable challenge in mastering the clean timing and lines which make this dance routine a success. Dancers and audience, alike, are drawn into an experience of total heart devotion to Jesus. This dual-style dancework 'works'!"
Lucy Andrew-Park Jarasius, Coordinator of International Christian Dance Fellowship, www.icdf.com

"Youthful, contemporary, passionate...This lyrical/hip hop praise dance routine turns a prayer into a cry of the entire being. Perfect for churches that want to communicate in the language of today's culture."
Bob Sorge, author, www.oasishouse.net

"As one of the pioneers of the contemporary movement of dance and the Christian faith, I applaud the efforts of those like Dawn whose well crafted and heart-felt work in dance is rendered as a service and true ministry to the Body of Christ."
Randall Flinn, Director, Ad Deum Dance Company, www.danceaddeum.com

Here I Am by

Kara Tualatai
From the self titled album Kara

©2002 Integrity's Hosanna! Music/ASCAP
All rights reserved. Used by permission.

To buy this CD or download mp3, please click on the following links: amazon.com

To download song Here I Am use the following link: iTunes.com

Here are the lyrics to the song Here I Am