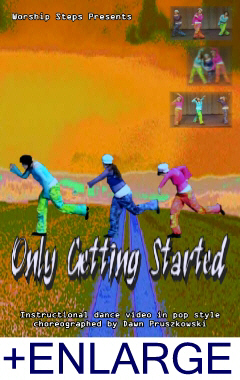 Only Getting Started - pop praise dance instruction video

Worship Steps presents ONLY GETTING STARTED, a pop styled (hip-hop/jazz) praise dance to the song Only Getting Started by Steven Curtis Chapman. This energy packed dance routine portrays the joy of discovering Jesus over and over again and expresses worship towards God in a fun and theatrical way. This hip hop praise dance instruction video features a demo performance followed by an easy to learn step by step studio instruction.
See the > dance video clip < and where to buy the CD or download the > song < used in this video.
Running time: 53:44
Choreography and instruction by Dawn Pruszkowski
Produced By Wiesiek Pruszkowski


List Price: $29.99
DVD sale price: $5 Shipping info and payment options


Watch all of our videos in one place - click here

Endorsements
"This pop praise dance instruction video gives you the opportunity to express worship towards God in a fun and theatrical way. Each move is demonstrated and broken down to easily understand the choreography. Enjoy the power of dance as you experience "worship steps".
Pastor Tymme Reitz of I.H.P. Underground / Word In Motion Dance Co. www.wordinmotion.com
"This is a fun, energetic pop styled praise dance that celebrates the thrill of an ever-growing relationship with Christ. The young and the young-at-heart are going to love this dance routine!""
Bob Sorge, author, www.oasishouse.net
"As one of the pioneers of the contemporary movement of dance and the Christian faith, I applaud the efforts of those like Dawn whose well crafted and heart-felt work in dance is rendered as a service and true ministry to the Body of Christ."
Randall Flinn, Director, Ad Deum Dance Company, www.danceaddeum.com
Only Getting Started by Steven Curtis Chapman from the album All Things New by Steven Curtis Chapman.
© 2004 Sparrow Song / Peach Hill Songs / BMI / Admin. by EMI CMG Publishing.
All rights reserved. Used by permission.
To buy this CD or download mp3, please use the following link: amazon.com
To download song Only Getting Started use the following link: iTunes.com
Here are the lyrics to the song Only Getting Started.