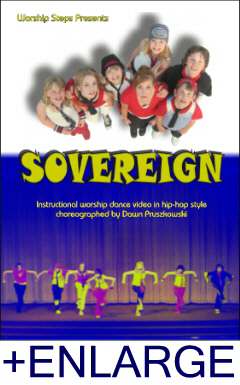 Sovereign - hip hop praise dance instruction video



Worship Steps presents Sovereign, a fun, energy packed hip hop styled praise dance to the song Sovereign by Parachute Band. Each funky move declares the sovereignty of Jesus and the power of His name. This hip hop praise dance instruction video features a fully choreographed dance routine performed live followed by an easy to learn step by step studio instruction. Sovereign can be performed as a solo or a group dance.
See the > dance video clips < and where to buy the CD or download the > song < used in this video.

Running time: 52:00
Choreography and instruction by Dawn Pruszkowski
Produced By Wiesiek Pruszkowski



List Price: $29.99
DVD sale price: $5 Shipping info and payment options



Watch all of our videos in one place - click here




Endorsements

"This hip hop praise dance routine is pumped-full of passion and spunk! The combination of the moves and the lyrics makes for some energy-packed, inspiring worship! Dawn's fun-yet-practical style of teaching makes it a blast and yet so easy to learn for a wide variety of people. ENJOY!!!"


Sharnessa Sanden, recording artist, hip hop dancer and teacher, www.freshattitude.com

"Dawn, you've done it again--this hip hop praise dance instruction video is simply an outright blast!"
Bob Sorge, author, www.oasishouse.net

"If you or your dance group are serious about wanting to proclaim Jesus as Lord and Saviour to our upcoming generation, then you seriously need to consider adding hip hop praise dance SOVEREIGN to your repertoire! Funky moves clearly communicating the power and the message can be easily learnt from this fresh and stimulating dance choreography to impact the young and "the young at heart". Get serious and get SOVEREIGN happening in your dance-life today!"
Lucy Andrew-Park Jarasius, Coordinator of International Dance Fellowship, www.icdf.com

"As one of the pioneers of the contemporary movement of dance and the Christian faith, I applaud the efforts of those like Dawn whose well crafted and heart-felt work in dance is rendered as a service and true ministry to the Body of Christ."
Randall Flinn, Director, Ad Deum Dance Company, www.danceaddeum.com

Sovereign by Wayne Huirua from the album Amazing by Parachute Band.
© Parachute Productions Adm. by Here to Him Music, Inc./BMI.
All rights reserved. Used by permission.

To buy this CD or download mp3, please click on the following link: amazon.com

To download only song Sovereign use the following link: iTunes.com

Here are the lyrics to the song Sovereign.